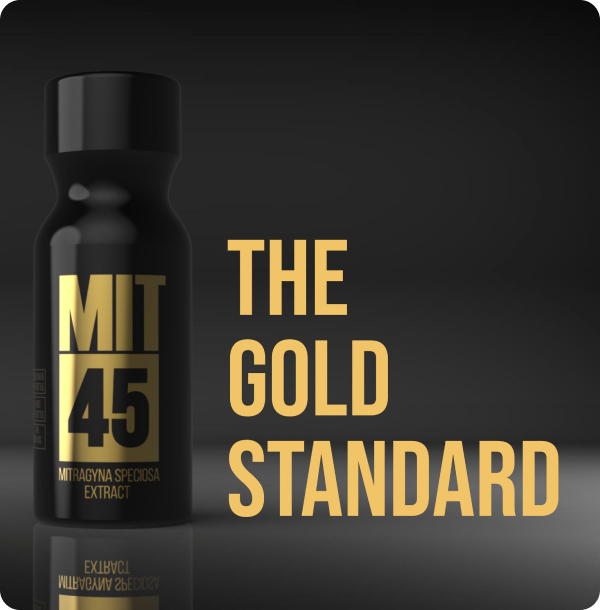 One of the many popular methods of enjoying kratom is to consume a shot. A kratom shot is simply a liquid version of the kratom extract. It seems as if every brand has its own kratom extract shot, but which ones are the best? And how do you choose?
The Best Extract Shot – MIT45 Super K Kratom Shot
Among the various kratom extracts on the market, this one from MIT45 easily stands out from the crowd. As with all MIT45 extracts, it is made using kratom plant materials of world-class quality. It is also fully GMP-compliant, giving you confidence in the purity and safety of the kratom product. You also get to take advantage of the MIT45 Triple Purification Process and proprietary extraction process.
This is just one of several MIT45 kratom shots, but it stands out for its ability to appeal to an experienced user looking for an extremely strong dose. It has 600 mg of 45% Mitragynine extract in a 30-milliliter container. This makes it a good option if you want something fairly strong but prefer to stay away from the strongest kratom available.
Honorable Mentions
While the MIT45 Super K Kratom Shot is easily among the best liquid extracts, you may also want to try one of the other top options. The following are some other honorable mentions.
MIT45 Gold Liquid Kratom Shot
250 mg is more kratom extract than most products on the market contain and ideal for experienced kratom users. If you have experience with kratom and are looking for something very strong, then the Gold Liquid Kratom Shot is a good alternative to our top pick, as it is still very strong but perfect if you prefer to stay away from the strongest kratom dosage.
You get all of the same advantages of the MIT45 brand. But it only has 250 mg of the brand's full-spectrum 45% Mitragynine extract instead of 600 mg.
MIT45 Super K Extra Strong Kratom Shot
The 600 mg of kratom extract in our top pick is too strong for the average user, but if you are a very experienced kratom user and want the stronger shot, this is the way to go. It has 1,300 mg of the same high-quality 45% Mitragynine extract. And it holds the title of the strongest liquid extract product on the market.
MIT45GO Black Extra Strength Kratom Shot
Yet another top option from MIT45, this one offers the convenience of consumption on the go. It is highly transportable because the container itself is just 0.50 ounces. It has 150 mg of the brand's kratom extract, along with cinnamon, orange, and honey.
MIT45 Kratom Boost
This liquid kratom extract is like "lightning in a bottle," thanks to the addition of caffeine. That makes it a great choice when you want kratom extract along with caffeine. There is 200 mg of Mitragynine extract.
K-Shot
K-Shots are produced using the leaves of Maeng Da kratom strains. They are highly concentrated and very popular. The small bottles of K-Shots contain about the equivalent of three or four grams of kratom leaf powder.
OPMS Gold Kratom Shot
The OPMS Gold Kratom Extract Shot is one of the oldest options. Over the years, OPMS has built a strong reputation. This shot is made using the Maeng Da kratom plant and features an exclusive alkaloid blend. The company uses a proprietary extraction method. Each shot contains 225 mg of alkaloids in 8.8 milliliters.
How to Choose the Best Kratom Shot
Whether you choose one of the above kratom shots or opt for another liquid kratom shot, your biggest consideration should be the brand. Only purchase kratom shots from reputable vendors. Make sure they use high-quality kratom leaves, as this results in quality products. Before buying full spectrum kratom extract, do a quick online search for the brand. This should confirm their reputation, the quality of their products, and that there are no major complaints.
You will also want to remember that kratom shots are a concentrated form of the plant. As such, they are best for experienced users. If you are still newer to kratom, you could divide your liquid shot into more servings. Or you could choose another type of product with a lower alkaloid content, such as kratom powder.
Conclusion
The best liquid kratom shots come from MIT45. The brand has a proprietary extraction process and Triple Purification Process for quality. Just be sure to choose kratom products with an appropriate concentration for your experience level.
Sources:
https://beerconnoisseur.com/blogs/3-must-buy-mit45-liquid-kratom-shots