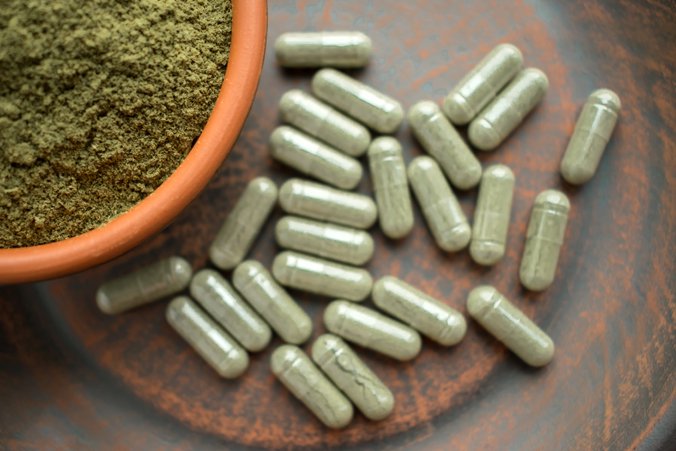 Capsules are one of the many popular forms of consuming kratom extract. As a refresher, kratom extract refers to a highly concentrated version of the plant's material. This means that you can consume a smaller quantity of it and notice similar effects. Because of that potency, kratom extracts are best for experienced users, and those who are new to kratom may want to try kratom powders or leaves instead.
Why People Choose Extract Capsules
Capsules are just one of several forms of kratom extract. Others include kratom shots, tinctures, powders, resin, and more. The form of the kratom you consume comes down to personal preference, but there are a few common reasons those who prefer capsules have this preference.
Highly Portable
One of the biggest draws of kratom capsules is that they are highly portable. While some other extract forms, like liquid shots, are also portable, capsules are even easier to take with you. After all, they can easily fit in a tiny pillbox or bag.
Pre-Measured
Many people also like the fact that kratom capsules are pre-measured, so they have a standardized amount in each pill. Compared to something like a kratom tincture or extract powder that you would just consume some of it, this makes life easier. You will know exactly how much kratom you are consuming, delivering the effects you expect, not more or less.
Can Be Flavorless
Some people like the effects of kratom but aren't a fan of the flavor. Depending on the capsules you choose, this can overcome that somewhat. Even if the capsules aren't completely flavorless, the kratom flavor won't be as strong in them as it is in other forms, such as extract powder.
Best Kratom Capsule Brands
There are plenty of kratom brands on the market, and most sell capsules. We've posted below about the top brand, based on both quality and popularity.
MIT45
MIT45 is an incredibly popular choice thanks to its GMP-compliant products (as part of the AKA) and strict lab testing. You can even view certificates of analysis on the website. They also offer a variety of capsules, with 0.5 grams of kratom. The MIT45 Gold Kratom Capsules contain 0.5 grams of 45% Mitragynine extract, with the flavor balanced out with turmeric, ginger, and white pepper. If you want less potency, you can also opt for Red Vein, Green Vein, or White Vein capsules.
How to Choose Good Kratom Capsules
You'll notice that most of the brands selling kratom extract capsules on our list are AKA GMP-Qualified. Ideally, you always want to choose extract capsules from a brand with this designation, as it helps ensure their quality and safety. You also want to make sure that your chosen kratom extract capsules have been lab tested, which further confirms their safety.
It's also smart to check reviews and the reputation of your chosen company before ordering kratom products. The internet makes it easy to get advice from other kratom lovers to help you find the best products.
Don't forget to pay attention to the concentration of your chosen kratom extract capsules as well, and to choose a concentration that matches your needs.
Conclusion
It's easy to find kratom extracts in capsule form, with many vendors offering high-quality options online. Choose capsules from a reputable brand with American Kratom Association GMP Compliance for extra peace of mind.
Sources:
https://wacotrib.com/brandavestudios/buy-kratom-online-kratom-vendors-for-best-kratom-extract-products-of-2022/article_c841de61-0de4-5488-9977-7efd76030ba8.html