Today, we're talking about the pros of kratom extract capsules over other forms of kratom. Different kratom users prefer different delivery methods, and capsules are popular for many reasons. Let's get into it.
First, it's important to note that kratom capsules on the market today can contain either powder or extract. There are some critical differences between the two. Extract capsules are highly concentrated, requiring a smaller quantity for similar effects, making them more popular among experienced users who seek a stronger boost. In contrast, newer kratom users might prefer capsules containing raw leaf kratom for milder effects.
Popular Reasons for Choosing Kratom Extract Capsules
They're portable and convenient.
One of the biggest draws of kratom capsules is their convenience and portability. While some other extract forms, like liquid shots, are portable, capsules are even easier to take. Throw them in your bag and you're ready to go. 
They're premeasured.
People also like that high-quality kratom capsules are pre-measured, so each pill has a standardized amount of kratom. This makes life easier than something like a kratom tincture or extract powder you'd need to measure yourself and add to something instead of consuming it alone. With a concentrated capsule, you know precisely how much kratom you consume, delivering the effects you expect—not more or less. 
They have a less noticeable taste.
Some like the effects of kratom but aren't a fan of the flavor. There are ways to alter the flavor—for example, some kratom users will add a flavored herbal tea bag to kratom tea, or mix a kratom shot with a smoothie or juice—but with capsules, you don't need to worry as much about altering or masking the sometimes bitter flavors. Depending on the capsules you choose, the flavor isn't noticeable at all. Even if the capsules aren't completely flavorless, the flavor won't be nearly as strong in them as in other forms of kratom.
What are the best options out there?
Plenty of kratom brands are on the market, and most sell capsules. You want to make sure to look for several things when you're choosing kratom capsules to ensure you're getting the best. Choose capsules from a reputable brand that's been certified by the American Kratom Association as a GMP-compliant vendor for extra peace of mind. 
The best kratom extract capsules on the market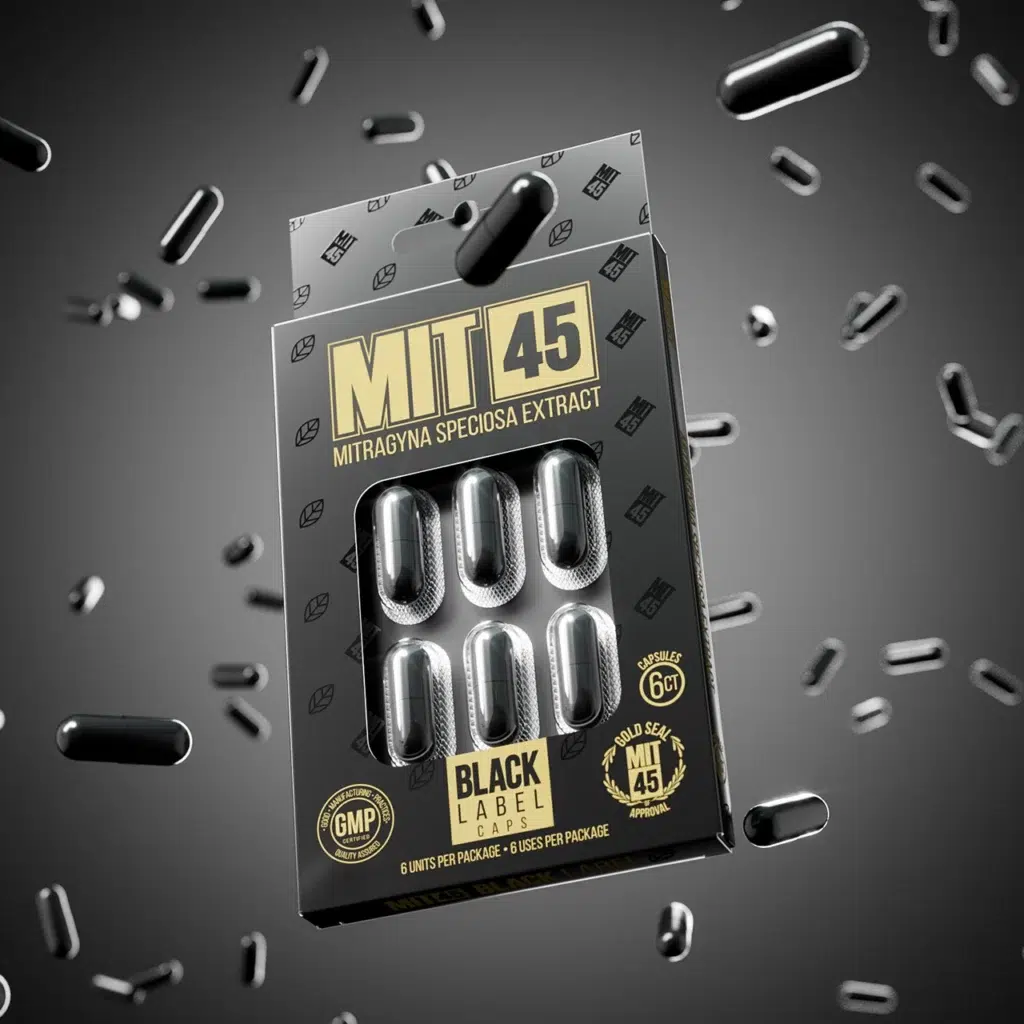 MIT45's Black Label capsules are popular and fully vetted. In addition to being GMP-certified, our extract capsules go through our proprietary Triple Purification Process, just like our other extracts. These capsules pair premium kratom extract with synergizing botanicals that are hand-selected to support your kratom experience.
While MIT45's Black Label capsules are our top choice for many reasons, here is a list of some other solid brands of kratom extract capsules to try. 
Conclusion
Choosing between capsules and other delivery methods depends on personal preferences and needs. Hopefully, this post has given you a solid introduction to the benefits capsules offer. Most importantly, kratom users should always source capsules from reputable suppliers. 
References
Partner Content Author. "Best Kratom Brands Reviewed [Updated] Top-Rated Kratom Products to Buy Online." Orlando Magazine. Published January 7, 2023.
"Interested in Kratom? Here Are Some of the Best Kratom Extract Products and Vendors". Waco Tribune-Herald. Published December 9, 2022.