Curious about how to make a kratom smoothie? Almost any smoothie can be made with kratom, and those with bold flavors (like chocolate or blueberry) do an especially good job at masking kratom's notoriously bitter taste. Certain ingredients are believed to improve kratom's bioavailability by increasing the effectiveness of smaller serving sizes. 
Keep reading to discover our top tips for tasty kratom smoothies, including kratom smoothie recipes worth sharing.
Benefits of Kratom Smoothies 
Smoothies are so much more than a morning meal. They can easily become a midday snack or a form of portable, on-the-go nutrition. Although they can be similar to juices, they generally contain fiber (a nutrient of concern for many Americans) from fruits and vegetables. 
An additional perk of smoothies is that they are easy to digest, being made mostly of blended or liquid ingredients. The possibilities are nearly endless when it comes to ingredients and flavors, and most smoothies can be customized to meet your health needs. Kratom smoothies, in particular, can be a great way to deliver kratom along with added nutrition from foods.
4 Tips for Spectacular Kratom Smoothies 
The best thing about kratom smoothies is that they are pretty hard to "mess up". With a couple tips and tricks, you'll be creating the tastiest kratom smoothies in no time! 
1. Consider Kratom Form 
There are many types of kratom available, but raw powders are most commonly used in smoothies. Capsules aren't considered to be smoothie-friendly since they can't be added directly into a blender without first being broken open. 
While liquid extracts can be used in smoothies, they tend to be a much more concentrated form of kratom. For those who know baking, it can be helpful to compare liquid extract kratom to flavoring extracts (like peppermint extract) and powders to ground spices (like cinnamon). Even a little extract goes a long way!
The same rings true of kratom in powdered versus liquid form. Keep in mind that, regardless of the form of kratom you're using, it's recommended to start small and then work your way up to the desired serving size. 
2. Understand Serving Size
The most important tip for creating a kratom smoothie is to understand kratom serving sizes. If you're used to adding protein powders or collagen powders, it can be easy to overdo it—remember that the "scoop sizes" appropriate for kratom will be much, much smaller.
An average serving size for kratom first timers is 1 gram, or even ½ gram if you want to be extra cautious. Although it may seem small, this amount is about ⅛ to ¼ teaspoon! Even a small amount can have noticeable effects to those who are sensitive to kratom. 
Experienced kratom users may be able to work their way up to larger amounts safely, and it's recommended to increase ½ gram (or ⅛ tsp) at a time. As mentioned above, in order to have a positive experience, it's important to begin with a small amount and then slowly increase serving size until you see the desired results. 
3. Take Extra Care with Large Batches  
Your serving size may also differ depending on the type of blender you are using. For example, a ⅛ teaspoon serving of kratom powder may be appropriate for a single serving blender, while a 1 teaspoon serving size may be more appropriate for a bigger blender creating 4-6 servings. 
If you're serving a crowd, it's important to ask everyone if they are comfortable with kratom before adding it to the recipe. Especially if you're splitting a smoothie with kids, be sure to make separate batches (one with kratom and one without). Remember, you can always hold off adding kratom to the end, and set a single portion aside for yourself. 
4. Mask Botanicals with Bold Flavors
Since kratom has a uniquely bitter taste, you may want to mask it with bold flavors. If you find kratom's natural taste less than pleasant, try and pick a companion flavor to overpower it. 
Don't know where to start? Using frozen blueberries as a fruity base adds plenty of flavor and a boost of antioxidants! Chocolate is another common flavoring agent. Use a tablespoon of raw cacao powder, or add a bit of extra protein with a scoop of chocolate-flavored protein powder.
There are nearly numberless flavor combinations, so feel free to play around with different foods and flavors until you find what suits you. Keep in mind that many fruits are naturally sweet, which will help to offset kratom's earthy taste. A tablespoon of natural sweetener, like honey, can also help balance out your smoothie.
What Are the Best Additives for Kratom Smoothies? 
Pretty much anything you can add to a regular smoothie can be added to a kratom smoothie. Some kratom additives, however, increase the kratom's bioavailability, or how much of the kratom your body can absorb. In this way, you can make kratom more effective without increasing your serving size. 
Many of the foods you'll see listed below might already be foods you use in your smoothies, like milk or orange juice. Other items (like herbs and spices) may give you ideas for making your smoothies more interesting, such as using spices and herbs for a more savory or vegetable-heavy smoothie. 
Here are some of the most popular kratom additives that increase bioavailability. You can find a more complete list from Blate Papes.
Akuamma seed

: available in seed or powder 

Acidic citrus juices

: such as lemon, grapefruit*, or orange juice

Certain herbs and spices

: cinnamon, ginger, black pepper, turmeric, or cayenne pepper

Magnesium-rich foods

: bananas, avocados, leafy greens, nuts and seeds, milk, yogurt, dark chocolate  
*Grapefruit interferes with many common medications, so it's always a good idea to check your medication labels for interactions before regularly eating grapefruit as part of your diet.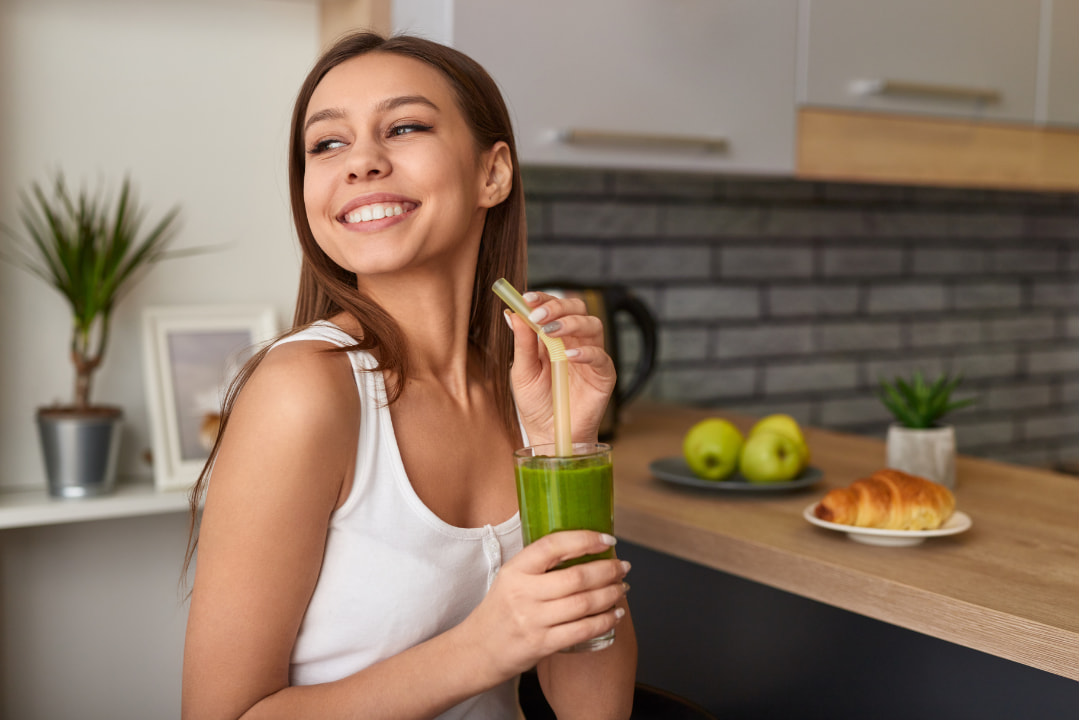 Basic Formula for Kratom Smoothies
The following "formula" can give you a great starting point for your smoothie. Customize as desired, and don't be afraid of some trial and error before you find your favorite combination! 
Ingredients
Yields 1-2 servings
1 cup frozen fruit (frozen keeps it frosty) 

½-1 cup liquid** 

1-2 Tablespoons honey (for sweetness) 

1 teaspoon vanilla 

1 gram kratom powder (¼ teaspoon)*** 

Optional, to help boost protein

: 1 scoop

protein powder

or a tablespoon of nut butter

Optional, to increase creaminess

: can add ¼ cup yogurt, ½ avocado, or a banana

Optional, to sneak in more vegetables

: ¼ – ¾ cup vegetables (leafy greens like kale or spinach work particularly well) 
**Milk, nut milks, and orange juice are common favorites (and also thought to increase bioavailability). As a note, it's likely that the more powdered products you use, the more liquid you will need. 
***You can work your way up to a larger serving size once you understand how your body responds. 
Instructions 
Generally, you'll be able to blend all the ingredients together at once in a high-powered blender until your mixture reaches the desired consistency. Dry ingredients, like powders, tend to tax your machine more, so feel free to add them in at the end. 
Classic Smoothie Combos to Get You Started
Too many options to choose from? Here are some favorite combinations of flavors to get you started. Use the basic recipe above, but make the following adjustments: 
Chocolate Banana

: Use milk for the liquid, add a frozen banana for creaminess, and add either cacao powder or chocolate protein powder for flavor.

Chocolate-Covered Strawberry

: Same as chocolate banana, but use about frozen strawberries instead of a banana.

Cookie Dough

: Use a frozen banana as the base, the nut milk of your choice, a scoop of vanilla plant-based protein powder, a tablespoon of nut butter, and then add in a sprinkle of cinnamon.

Orange Dreamsicle

: Use a frozen banana for the base, a mix of milk and orange juice for the liquid, then up the vanilla to 1 ½ or 2 teaspoons (depending on personal preference).

Berry Boost: Use frozen blueberries or mixed berries for the fruit, and sneak in ½ a cup of spinach for leafy greens.

In Summary on Smoothies 
Kratom smoothies may seem a bit intimidating at first. However, with a little trial and error, you can find a combination of ingredients that is right for you and your lifestyle. Remember, it's always best to start with a small amount of powdered kratom and then work your way up. Plus, certain kratom additives can help you make the most of a small serving size. 
If you're thinking about kratom smoothies as part of a new workout routine, check out our best fitness tips and resource guides.
References
Creed SM, Gutridge AM, Argade MD, Hennessy MR, Friesen JB, et al. Isolation and Pharmalogical Characterization of Six Opiodergic Picralima nitida Alkaloids. J Nat Prod. 2021;84(1):71-80. 
Kesarwani K, Gupta R. Bioavailability enhancers of herbal origin: An overview. Asian Pac J Trop Biomed. 2013;3(4):253-266. 
Klemm S. What is Magnesium? Eatright.org. Published March 2021.