For many, fitness and nutrition go hand in hand (and for a good reason). To achieve optimal performance and function, the type of fuel you put in your body is important. Planning your food intake by using a weekly meal prep system can make meals healthier and more manageable. 
See our top fitness meal prep ideas, including tips for adding your daily kratom regimen into your meal prep plans. 
How to Meal Prep for the Week 
If you've ever worked out before, even for a short amount of time, you've probably heard that the recovery period is equally as important exercise. What you eat before, during, and after you engage in physical activity is important to molding muscles and helping you reach your fitness goals. 
That being said, sitting down to plan a full week of meals may sound intimidating, especially at first. However, time invested in preparation can pay off down the road when it comes to physical fitness.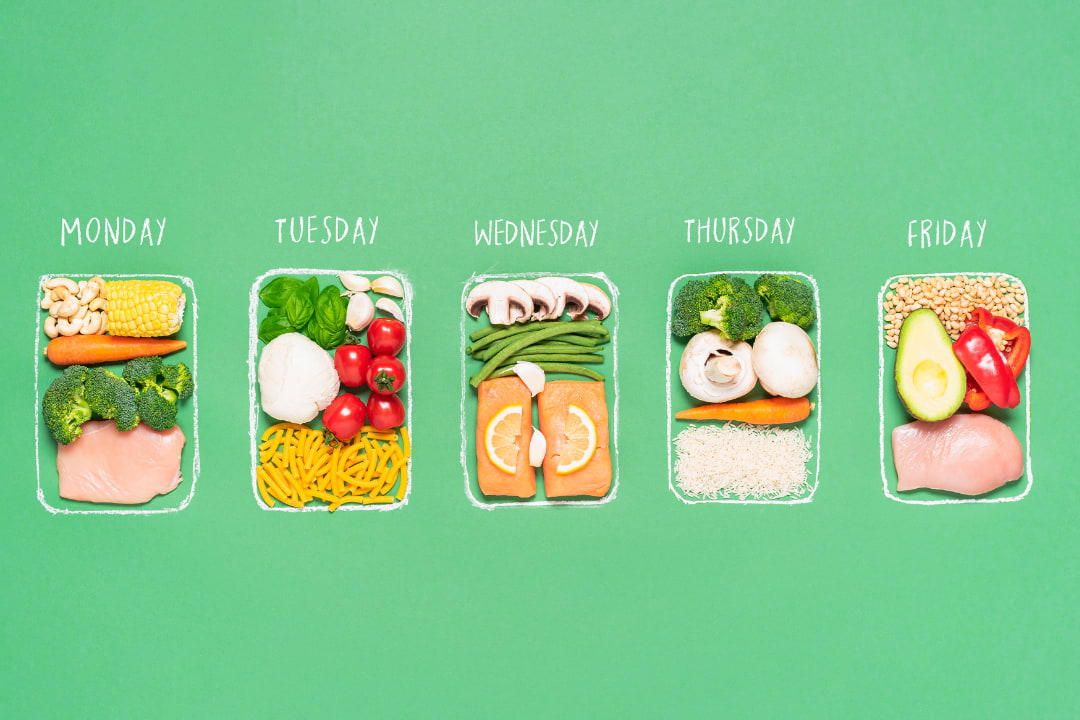 Don't know where to start? Try these steps for getting into the swing of things. 
1. Start with Your Goals, and Go From There
Preparing a meal plan is most effective when the plan is created with a goal in mind. Before you start diving into meal prep, ask yourself, "what type of activity does my diet need to sustain?" Your answer may illuminate the type of preparation you want to do. 
For example, if you need your meal plan to support an early morning run each day of the week, your meal prep might include quick and easy breakfasts while dinners are more elaborate. If you're working a workout into your lunch break, a portable and protein-packed lunch that can be eaten quickly might be the best option. If you're scheduling your gym session around your kid's afternoon extracurriculars, a crockpot dinner for the whole family may be best. 
2. Select (and Schedule) a Specific Day 
For most people, it's helpful to have a scheduled day and time devoted to meal prep so it's not brushed by the wayside. Weekend days are popular for this purpose, and although this could take a few hours up front, it saves plenty of time during the week. Putting this commitment on your calendar or somewhere you can see it regularly makes it more likely that you'll stick to it. 
3. Rely on Done-For-You Recipes & Resources
You don't have to find (or create) a brand new recipe for every meal. Thanks to the internet, there are countless places to find fitness meal prep recipes and inspiration. Keep in mind that the most reputable meal plans and nutritionally-balanced recipes will come from experts (dietitians, in particular)—and it's worth seeking these experts' guidance out, whenever feasible, for your overall health.  
Alternatively, you can modify old favorites and comfort foods to better fit your fitness regimen. Usually, tweaking an ingredient or two can enhance a recipe. For example, you can boost the protein content of mac and cheese by using whole wheat, chickpea, or legume-based noodles. 
4. Pack the Pantry With Essentials
Short on time? A pantry full of essentials can help create a meal in just minutes. Popular, protein-packed favorites among exercise amateurs and seasoned athletes alike include: 
Beef jerky 

Canned sardines, tuna, or pouches of seafood 

Dried or canned beans and lentils 

Nuts, seeds, and nut butters

Oats and oatmeal 

Popcorn 

Protein bars 

Whole and ancient grains (such as quinoa) 

Whole-grain cereals and pastas
5. Adjust As Needed
Your fitness routine may evolve over time, and your meal preparation methods can evolve, too. Meal prep doesn't have to take hours to be effective, and (similar to exercise) practice can help you make progress. In other words, as you participate in healthy meal prep over time, your methods will start to feel like muscle memory instead of feeling foreign. 
For example, if a pen-and-paper method isn't working for you, try a meal planning app. Many apps generate a list of ingredients based on recipes you've selected, making the process quick and easy. If you're short on time between gym sessions, select the "pickup" option instead of shopping in the store (or use your walk down the aisles as a cool-down). Instead of simply replicating what works for one person, don't be afraid to customize and personalize your meal prep methods until they feel like the best fit for you and your fitness goals. 
6. Reach Out When You Need Help 
Just like you might need a personal trainer to get into shape, you may need professional assistance to meal prep in the ways you want. Creating the ideal meals for fitness isn't something you have to do alone! Meeting with a dietitian or certified nutritionist when you're feeling stuck can help you overcome barriers in your approach to meal prep.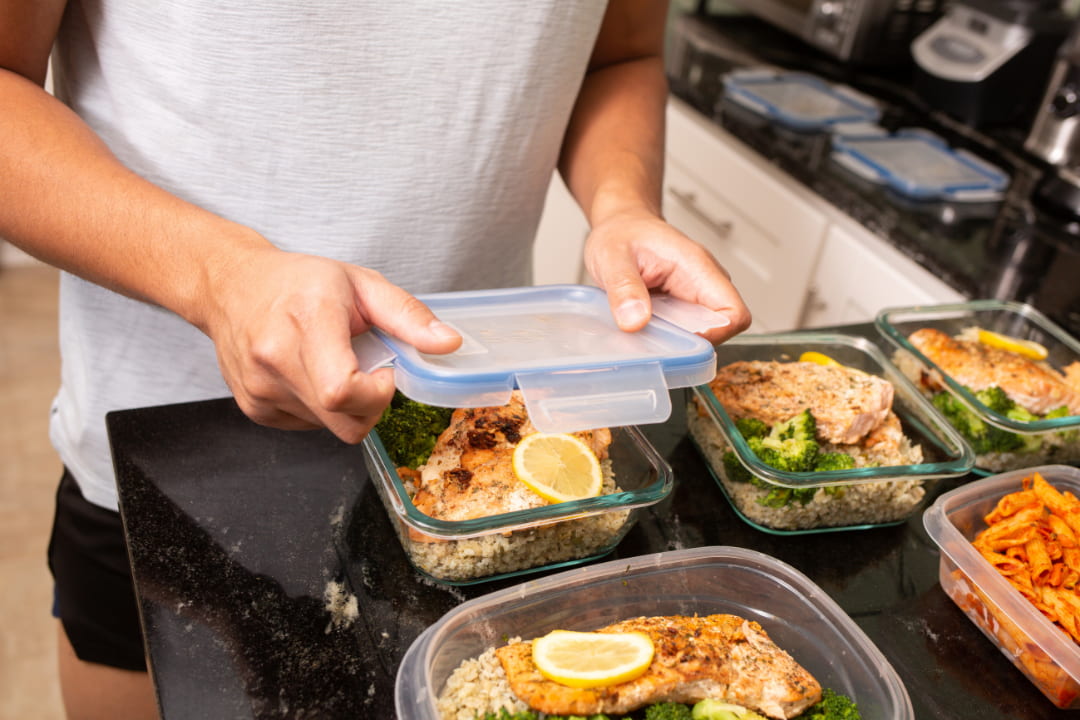 Easy Meal Prep Ideas for the Week 
Looking for fitness-focused recipes without all the fuss? It's helpful to search for the following terms when looking for easy-to-follow, fitness-focused recipes online or in cookbooks: 
Bowls (such as "burrito bowls" or "yogurt bowls")

Crockpot or slow cooker recipes 

Energy balls or bites

Homemade (such as "homemade trail mix" or "homemade protein bars") 

One-pan or sheet pan meals

One-pot meals

On-the-go options (such as "on-the-go breakfast sandwiches")

Protein or high-protein (such as "protein pancakes" or "high protein overnight oats")

Salads, stir-fries, or soups (these recipes typically combine many food groups in one dish)

30-minute meals
Here are some additional tips for making meal prep easier. 
Assemble Ingredients Ahead of Time
One way to save time during meal prep is to cut vegetables or marinate meats ahead of time. This makes it easy to simply combine and cook ingredients when the time comes. Many grocery stores also offer pre-cut or pre-sliced ingredients, or ready-to-cook meals in their deli section. 
Don't forget that fitness meal prep delivery services are also an option that can be both healthful and time-efficient. Many meal services can ship ready-to-cook ingredients to your door, so all you have to do is get cooking (instead of spending hours at the grocery store).  
Compartmentalized Containers
Bento boxes or containers with separate compartments for each item can be especially helpful for meal prep. They make it easy to check off every food group as you create on-the-go meals, and separate foods so juices or dressings don't mix. Plus, they are great for kids and adults alike! 
Make A Meal with Leftovers in Mind
Making a bigger meal, such as sheet pan chicken and veggies, at the beginning of the week can provide plenty of leftovers for days to follow. A protein-packed favorite among many individuals is chili, which can be reheated for lunches and dinners. 
If you aren't keen on leftovers, try revolutionizing or reimagining them! Adding a new sauce, turning cooked ingredients into a delicious casserole, or eating your burrito filling with chips instead of in a tortilla can turn once boring leftovers into an exciting, new meal.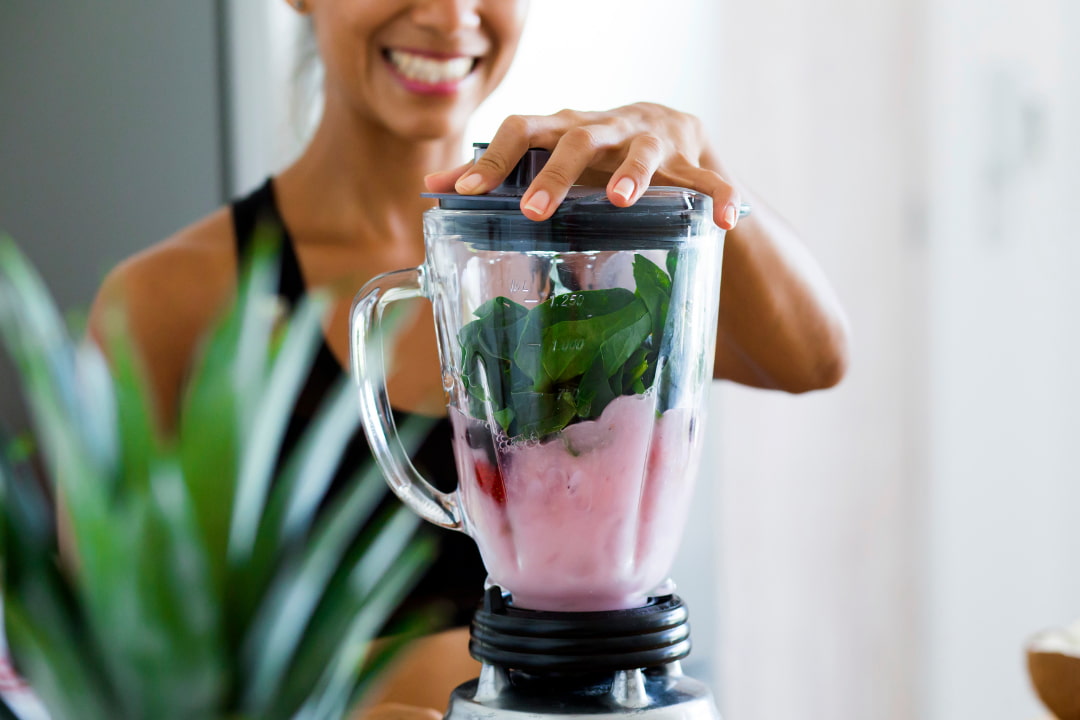 Adding Your Daily Kratom Regimen To Weekly Meal Prep
So, where does kratom fit in when it comes to meal preparation? Since kratom can be part of your daily fitness regimen, it may make sense to plan out your kratom intake while you're mapping out your meals.  
Similar to how you might plan a meal made with protein powder (such as a protein smoothie or energy bites) to ensure you get enough protein on a certain day, you can plan ahead concerning kratom intake. For example, you can plan Boost Bites, GO extract pouches, or capsules for days when you're on the go and raw leaf powder recipes for days when you've got a little more time on your hands. 
Kratom on a Full vs. Empty Stomach
It's natural to wonder what impact a full or empty stomach may have when you're wondering how to fit kratom into your meal preparation. Essentially, the type of kratom you're taking matters, since different types can be absorbed in different ways. Extracts are fast-acting and may be absorbed more quickly into the bloodstream, while kratom capsules and powders must pass through the digestive tract. 
Many people prefer to ingest kratom on an empty stomach, as it is believed this is the best way to experience the full effects. The downside to this method is that it's easier to overdo the serving size and experience unwanted effects, such as an upset stomach. Alternatively, you can consume kratom with food, which may slow its absorption. Doing so is thought to temper its effects, which can be preferable for beginners still learning which serving size works best. On the other hand, some foods are popular kratom additives that are thought to increase bioavailability and make it easier for your body to absorb the kratom. 
Not sure whether you want to ingest kratom on a full or empty stomach? Instead of leaning towards one or the other (eating nothing or ingesting a whole meal), try taking a small serving size of kratom with a snack. Pay attention to how you feel and adjust your kratom and food intake accordingly, in small increments, until you experience the desired effects.  
A Final Word on Meal Prepping for Fitness
Meal prepping can be a fun adventure, and one that enhances your fitness experience. A few simple tactics can help meal prep feel less like a chore and more like an exciting experiment. Finding the right meal prep rhythm combined with your daily kratom regimen may be able to help you reach your personal best. 
Wondering about meal planning for wellness, and as a general life hack? Check out this additional resource on Meal Prepping for the Health & Wellness-Minded. 
References
Carroll C. The Ultimate Guide to Athlete Meal Prep. Snackinginsneakers.com. Published October 2020. 
Ellis E, Msora-Kasago C, Derocha G, Escobar SN, Bochi RA, Sheth V. Creating a Grocery List. Eatright.org. Published March 2022.  
Gordon B. 3 Strategies for Successful Meal Planning. Eatright.org. Published July 2019. 
Lavy A. 5 Meal Prep Hacks That Will Save You Time and Stress. Alyssallavy.com. Published August 2018. 
Rodriguez N. A Peek in My Pantry: 5 Must-Have Items. Enjoyfoodenjoylife.com. Published March 2016.