Look, we get why people want to know about red Bali kratom extract. Red vein kratom is known more for its soothing properties. The Bali kratom strain is known for its peace and serenity. Kratom extracts are known for their concentrated strength and fast-acting effects. Put it altogether and you've quite the experience….allegedly. Come on, admit it. Some version of these reputations is why you're interested in this product.  
 Here's the thing: Nearly every single one of these reputations is overblown or downright misleading. Okay, yes, red vein kratom tends to have slightly more soothing properties due to its lower mitragynine content and relatively higher quantities of kratom's secondary alkaloids.  
But the Bali strain itself is essentially a marketing gimmick. Despite the name, red Bali kratom is almost never grown in Bali. Let's be real: The island is too valuable as a tourist destination—for vacationers around the world as well as local Indonesians—to use its precious real estate and naturalistic wonders for most types of commercial agriculture. 
 Worse than that, the manufacturer often doesn't even bother to test its source of kratom powder to see if users attest to the "peace and serenity" of the specific kratom cultivar they're marketing as Bali kratom.  
 Finally, yes, kratom extracts are more concentrated than raw kratom powder, but it's not like you can't consume micro-servings.  
MOST EXTRACTS AREN'T STRAIN-SPECIFIC
Moreover, you aren't likely to find an extract made solely from red Bali. That is because most kratom extracts on the market are made from a combination of strains, not a single one. This allows the manufacturers to get the proper concentration of alkaloids and create more proprietary blends.
Many red kratom extracts are simple X-times extracts. Due to limited supplies of single kratom strains, these extracts are usually only concentrated 2-3 times. Higher concentrated extracts usually draw from multiple strains/batches. For example, this Red Borneo kratom extract is only 4% mitragynine, and we couldn't even find a comparable "red Bali" product. 
If you really want extract made from just red Bali or that includes red Bali, you may have to make it yourself. This is technically possible, but it is time-consuming and typically with an inferior result. 
Our recommendation for getting the strong but comforting effects of red Bali kratom extract is to try our Super K products. These products include generous amounts of kratom extract but with a lower mitragynine content to let kratom's secondary alkaloids have more influence on the overall effect. Learn more about our Super K products and red kratom extract. 
HOW TO USE RED BALI KRATOM
Whether you are consuming red Bali kratom, another strain, or a kratom extract, it is important to start with a small serving size. Some kratom users keep a journal, so they can record how a given serving size affects them. This way, they know whether to increase the amount they consume the next time.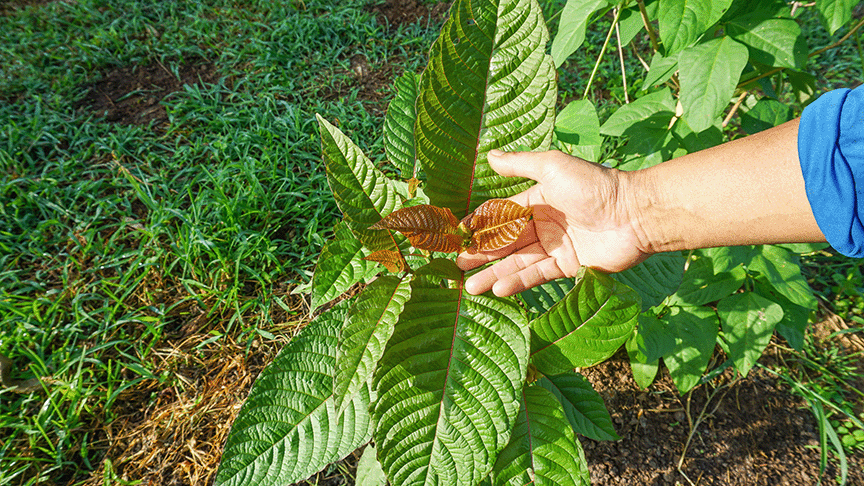 It usually takes about 20 to 30 minutes to start feeling the effects of this kratom strain, and the effects can last for hours. Still, if you don't notice effects within this time frame, don't consume more. Your body may just take longer to react especially with raw leaf products, and you don't want to accidentally consume more than planned. Instead, if you don't notice the desired effects, wait and consume a slightly higher red Bali kratom serving the next time you enjoy the red Bali. 
HOW TO CHOOSE YOUR RED BALI KRATOM OR KRATOM EXTRACT
Whether you choose to buy red Bali kratom or an extract, you want to pay close attention to the quality of the product. Always look for kratom powder or capsules from a company with GMP-compliant facilities and certification from the American Kratom Association. 
You also want to be sure to buy red Bali kratom that has been lab tested with a transparent Certificate of Analysis. This will confirm that its concentration is what the brand claims. It will also confirm there are no potentially harmful contaminants in the product. Follow the same advice when buying other kratom strains.